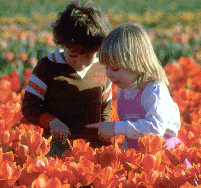 Action for a Meeting with
Senator Charles Schumer & Senator Kirsten Gillibrand
Syracuse, New York
Senator Charles E. Schumer (D-NY) 315-423-5471
Senator Kirsten Gillibrand (D-NY) 315-448-0470

We are promoting the recognition and protection of Family Rights.  We can't even get support for this:  "When a child is born, both biological parents have a right to know."    We'll focus on that first.  We feel we have a good plan to start a National grass-roots movement for reform.  John Murtari, a former USAF Pilot is coordinating the local effort, feel free to contact him.
Check here for many ways you can help, we're recognizing all who get involved.
| | |
| --- | --- |
| | Check this brief video for a summary of activity from June – August, includes a local TV News Report. |
August 17th, 2018 – We need people to encourage more news coverage like on July 10th (below). Please let us know if you can make it! We plan on starting at 1 PM outside the Hanley Federal Building.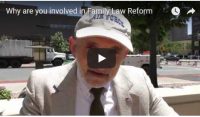 WE WANT YOUR ANSWER ON VIDEO! Willing to share your pain with the public? We'd like you to record your answer to the same question John was given "Why are you involved ?" His took less than 60 seconds! Keep it short, loving, upload to YouTube, and let us know.
August 9-10th, 2018 – Two days of activity.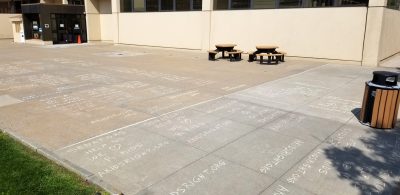 There were a lot of messages left in chalk out front (little kids thought it was neat as they left the building).
John also taped
some petition letters
that anyone could take and deliver.   Had a 'technical problem' with the side of the building.  It appeared to have a special anti-graffiti coating and masking tape would not stick…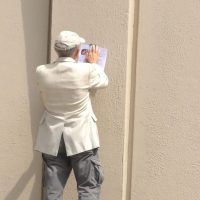 August 3rd, 2018 –  Murtari forced out of the building after quietly walking the halls.

We want two powerful US Senators to respond to us, but we're not showing a lot of public support.  The method of NonViolent Action is to be peaceful.   The goal is 'good drama' to get a click on a message  and Social Media attention.  We couldn't get a dozen people outside, how about ONE person inside carrying pictures of parents/children unjustly separated?
   I called Schumer's office in the morning and said I would have a letter to drop off.   I got there at 1,  left a few message with chalk just to see if they would react and waited till about 1:30 in case someone else might show up.

    I then went upstairs to Schumer's floor (also the offices of the US Attorney for the Northern District of NY).  Nobody answered their door, so I slide the letter underneath.  I then took out my placard and walked around the halls. 

Used same photos in the building.

      In about 15 minutes, a couple of guys from building security showed up and told me I couldn't do that.  I said I thought I could.  They asked me to follow them out,   I refused.  I told them it had been allowed before, they left to check…..   A few minutes later one of the US Attorney's came out, he thought I was protesting something about their office — we talked for a while and I explained.  I said it was a public building and this is a simple exercise in free speech….  While we were talking about 3 more building security guys showed up….  Finally two Federal Police showed up (one knew me from years ago).  They asked me one more time, made it clear they were not going to arrest me (I think they knew I wanted that).  Then they took me by the arms and walked me out.   So…… I don't think they'll be letting me in the building anymore. 

Once they make physical contact with me I don't resist. Also, VERY IMPORTANT TO UNDERSTAND,  I don't ever raise my voice, or lie to them, or complain,  or call them names or ask why aren't you supporting me.  The funny thing is, as much as parents rightfully complain about how bad the system is — so few are willing to join in peaceful action for reform. THEY aren't stopping reform, WE ARE.  We don't believe our love has power and we can change the system.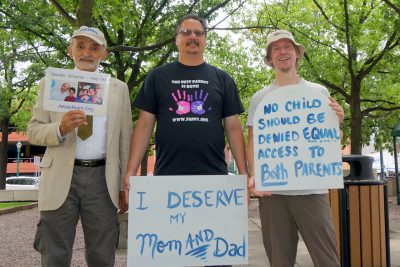 July 27th, 2018 – Had some parents from out of town make the trip.  Mr. Jack Frost, from the Albany area,  has been active in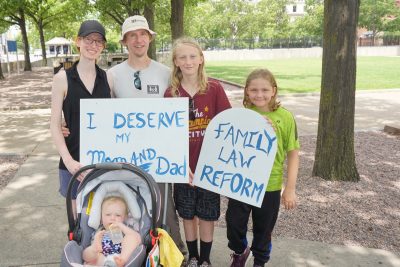 reform for many years and is currently President of FAFNY.   Mr. Alex Haas came with his family from Ohio and also helps with NPO.
July 20th, 2018  (Friday before National Parent's Day) – The collage doesn't even capture all the messages that were left.
| | |
| --- | --- |
| July 10th, 2018 – News Coverage.  A news crew for the local ABC affiliate, WIXT (Channel 9), came out to the Federal Bldg to take some pictures and do an interview. | |
July 6th, 2018 –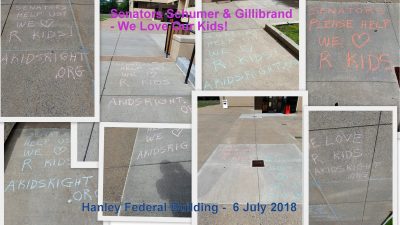 We capture more video and that will be posted soon.  John left multiple messages on the
Federal Plaza.  The collage below capture most of what he wrote around the building entrance.
June 29th, 2018 – You know what they say — if you don't see it on camera, it's not real!    Check out the video to see what actually goes on.

Hope to see more parents next week. We're working on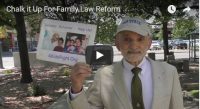 making our efforts on Family Rights real.   We have an experienced TV Producer (Mr. Michael Seeber from Minnesota — who in his spare time creates content for distribution on the Internet and also local News channels) and an experienced local videographer.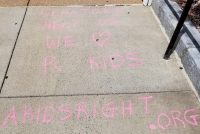 June 22nd, 2018 – No letters and no one else had time to show up.  Left OUR message in about FIVE different locations around the Hanley Federal Building.
"Senators Help Us!   We ♥ R Kids"
June 15th, 2018 (Friday before Father's Day) -There were no letters to deliver, but a local Mom did show up around 1 PM to talk about some custody issues.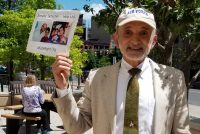 She took a pic of John and the placard he carries outside the building (His cap? He's a USAF Academy grad & former Pilot).  She wasn't able to stay around and John began leaving multiple chalk messages at 2 PM.

Again, security was polite, gave him another warning, but did not react to the additional messages.  We need more parents as spectators and then we should be able to get some local media coverage.  Read a 'frank' list message: Not-So-Happy Father's Day – when does it end?
June 1st, 2018 – Another Mom showed up with a photo and letter.  We delivered it and spoke briefly with the Regional Director for Senator Schumer.

The original plan had been to leave a chalked message and risk a potential arrest; how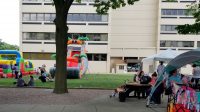 ever, a lot of downtown Syracuse was blocked off to traffic.  It was the "Taste of Syracuse" festival and there were a lot of people around and also on the Federal Plaza.
John has a  'working' relationship with security, and tries to avoid incidents when they are busy.  It hadn't rained in a week, the message from the 25th was still clearly visible!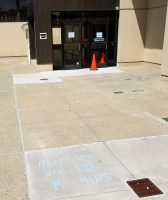 May 25th, 2018 – No letters to deliver.  John carried a small placard with pictures of parents and children unjustly separated.  His cap?  He is a former Air Force pilot.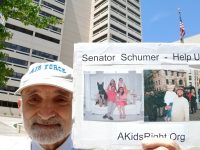 He then left a message in chalk and was then warned by building security to not do that anymore or they'd have to take action.
We've left two weeks worth of letters at the local offices of the Senators.  John tried to call their local aids to get some type of response.  Had to leave a message and no callback so far.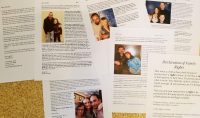 May 18th, 2018 – A package of 5 more of your letters was delivered.  Delivered the letters and left
a chalked message on the pavement.   Read a recent list message for more details.
"Senators Help Us!   We ♥ R Kids"
May 11th, 2018 (Friday before Mother's Day) –  A package of five letters was dropped off at the offices of Senators Schumer and Gillibrand.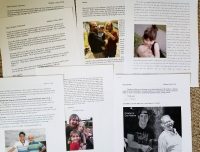 Got to the Syracuse Federal Bldg at about 12:30, just walked around outside carrying a small placard with pics of parents and children. At about 1:15 I quit waiting for anyone to show up, and brought the letters/photos you had submitted to the local offices of Senators Schumer & Gillibrand.
Went back outside, pulled out some "Passionate Pink" Kid's chalk and wrote the message you see below:
"Senators Help Us!   We ♥ R Kids"
Well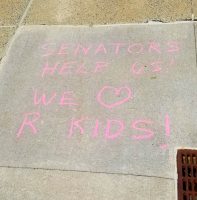 within view of the entrance, not to mention extensive surveillance cameras.   It appears nobody noticed. Stayed around for another 15 minutes and the left.
I'm very happy to be home again! Plan on going back again next Friday, same time. Hope to see some of you there to help deliver letters and to just watch what happens.  — John

To succeed in getting media attention we need more parents to call/visit their local offices.    We'll be meeting at the entrance of the Syracuse Federal Building at 1 PM.  We'll be dropping your personal letters (including a picture of you and your children) with their staff.  Click here for examples from last year.     Contact John Murtari if interested.You have several choices on how to participate (yes, you can do them all!):

Be a spectator.
Visit the local offices of US Senators Schumer and Gillibrand. Leave a personal letter letting them know you care about Family Rights.
Walk quietly carrying a picture of your/other kids unjustly separated.
Bring some Kid's Chalk and leave a message of love on the pavement.
If we can get a good turnout we may be able to arrange some media attention.
June 2017 – Visited with aides for Senator Schumer & Gillibrand at the Syracuse Federal Building. . Talked to them about the need to recognize & protect Family Rights. Left them a package  including photos & letters from parents.
Couldn't even get political support for → "When a child is born, both biological parents have a right to know." Senator Gillibrand's aide thought I had a point and something to consider. Senator Schumer's aide felt it was the mother's decision to let a father know he had a child.