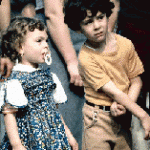 For it is not Zeus who made that order.
Nor did that Justice who lives with the gods below
mark out such laws to hold among mankind.
Nor did I think your orders were so strong
that you, a mortal man, could over-run
the God's unwritten and unfailing laws.
Sophocles, Antigone (450)
Federal Class Action Suit Filed (Aug 2019) – Mr. Steve Chang & Mr. Gordon Smith are challenging laws that are biased and not gender neutral.
Read the Court Transcript for a Federal Trial in March 2008 for writing  "I LOVE YOU DOM" and "SEN CLINTON HELP US"  with kid's chalk on the ground outside the building.
Check here for a nice summary of Constitutional Case law.  Many of these are years old, but hopefully provide good examples. If you are aware of any cases/laws dealing with right to Jury & Custody, let us know!
Some legal cases about rights to an equal relationship with your kids:
Here are some links to other documents we have: