Senator Hillary Rodham Clinton (D-NY)

We welcome and encourage you to participate. Contact Senator Clinton's office, ask her to meet personally with parents who feel their Civil Right's have been violated. Please call/fax using the info below and let them know your concerns about reform. (Here is our proposed Agenda)

The MESSAGE should not be one of anger, but merely to say to them, "We need Congressional hearings into reform. Please, why don't you take the time to meet with parent hurt by the system. We are parents who love our children and we feel serious reform is necessary..."

Syracuse Local rep, Jay Biba
tel: 315-448-0470,
fax: 315-448-0476

New York City Office:
tel: (212) 688-6262 ,
fax: (212) 688-7444

Washington Scheduling Office, Lona Valmoro (Senior Advisor to the Senator),
tel: 202-224-4451,
fax: 202-228-0121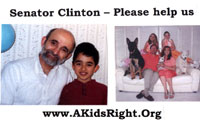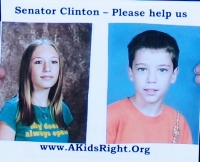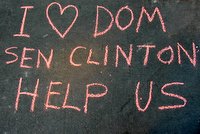 Can simple pictures and writing "I LOVE YOU" with chalk encourage a US Senator to meet with us? Yes.
John Murtari has been coordinating this effort. Look at new photos for this petition. You are welcome to send in yours. Events planned for Murtari Federal Trial (Recap of past events).
Jan 2009 - Suspension of action - Sen Clinton will no longer be our US Senator. John Murtari was leading this effort. While we like to keep the focus on Federal action, John has stopped driving while attempting to get license issues due to child support resolved. Limited for now to walking distance, a local focus has become Parental Notification of Child Birth with a member of the NY State Assembly, click here for details. We hope to resume the Federal effort soon.
September 2008 - September story in a Catholic regional paper (local copy)
There are no further plans for NonViolent Action until after summer vacation and the DC Rally 2008. Local efforts in Syracuse should resume in late September, check here for details or the group mailing list. Contact group coordinator John Murtari directly if you are interested in participating.
March 19, 2008 - A News Release about yesterday's trial was sent out.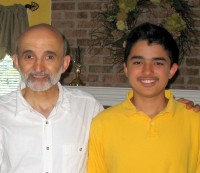 John was release on Friday, March 21st -- thanks to all of you for your help!
March 18, 2008 - John had his Federal Trial today. He was found guilty on both charges and was sentenced to 55 days in jail. He expects to be released on Friday March 21st and looks forward to seeing his son for the Easter holiday.
March 14, 2008 - A News Release about John's upcoming trial was sent out.
March 6, 2008 - John Murtari sent a letter to Senator Clinton asking her to meet with parents regarding Family Rights.
March 4, 2008 - John received a letter informing him his trial date had been moved up to March 18th at 9:30 am. We don't have a lot of time for planning, but we are encouraging parents to come to Syracuse for the trial and to visit the offices of Senator Clinton. The trial should be less than two hours in length and the Federal Courthouse is in the same building as Clinton's offices. Click here for details on event planning.
Feb 6, 2008 - John sent a letter to the Judge asking if the trial date could be moved so he could see his son during Spring Break. His request was denied.
Feb 1, 2008 - John had his Federal Detention Hearing today. The Judge ordered John to be held in jail until trial (currently scheduled for March 31st). John's mailing address in jail is: John Murtari, P.O. Box 143, Jamesville, NY 13078.
Jan 29, 2008 - John returned to the Syracuse Federal Building with a petition containing pictures of parents and children unjustly separated. He was also carrying kid's chalk and planned to write "I LOVE YOU" to his son and "SEN CLINTON HELP US" on the ground outside the building. For the third time this January, he was arrested and taken into custody by building security. We will release more details as they become available. Check back here for updates.
Jan 25, 2008 - John submits a letter to US Magistrate Peebles regarding the Civil Rights nature of his effort and also a motion for dismissal of pending charges and a request to vacate his new stay-away order.
Jan 24, 2008 - John returned to the Fed. Building at 2PM (it was a cold and snowy day!). When he started to write "I LOVE DOM" on the ground he was arrested by Federal Police, issued a ticket for 'disobeying' and order and released. He was also given a new and broader stay-away order. He plans on returning on Tuesday, Jan 29, at 2 PM -- your participation is welcome! More details on what happened to John here.
If any of you have reached the point where you're ready to participate in a NonViolent Action and you agree with the goals & methods of our group, http://www.AKidsRight.Org/approach.htm -- I sincerely welcome you to contact me. ... While I am ready to proceed alone, it would be more productive if more parents were involved.

I truly believe that when a Federal Magistrate (and the public) sees a group of Mothers & Fathers arraigned in hand-cuffs, there 'alleged' offense being writing "I LOVE YOU" and "SEN CLINTON HELP US" on the ground in chalk -- we will have reached a significant milestone in our Civil Rights movement... (read entire message)
Jan 17, 2008 - After two nights in jail, John was returned to Court for a 'detention hearing' in front of US Magistrate David Peebles. Initially it appeared that John would be returned to jail for violating the conditions of his release from Judge Peebles on Sep. 27th. The Judge was fair minded and took the time to adjourn and listen to the audio transcript of the Sep 27th proceeding. He determined that John had not violated his release conditions. After some discussion it was felt that the current stay-away order was too broad and the US Attorney decided to dismiss the charges from the Jan 15th arrest. John also plans to submit a motion to have the stay away order retroactively vacated, and so possible get the remaining two charges dismissed.

John was allowed to proceed as his own counsel and the Judge granted his request for the help of an assigned 'attorney advisor.' It was decided that the remaining two charges of Criminal Contempt would be treated as a Class B Misdemeanor, a maximum sentence of six months for each offense and no right to a jury trial -- the trial should be in early March. Judge Peebles revised his conditions of release so that John could stand in front of the building, but he was not allowed to 'deface' government property (which was targeted at his chalk writing in the past).
John was very thankful to be able to go home, at least for a while. He hopes to continue the effort next week and again the participation of more parents is critical. John was contacted by the local CBS affiliate who was interested in covering the activity on Jan 15th, but they were disappointed that no other people would be there.
I want to add a personal observation regarding my treatment in a Criminal Court of the United States of America. This is something I have found true with both US Magistrate DiBianco, Magistrate Peebles and also Assistant US Attorneys Richard Southwick and Ransom Reynolds. I am and have been a 'trying' defendant for all of them, repeatedly doing actions that were perceived as violations of lawful orders and taking up a lot of their time. In every appearance I was treated with respect and courtesy. I was given the time to explain myself and they all 'pulled their punches'. On several occasions Magistrate DiBianco adjusted sentences or court dates so that it would not jeopardize scheduled visits with my son.

Certainly, I understand that such treatment was helped by my courteous and respectful attitude toward them. What is most disturbing is that my demeanor was also the same during several Family Court proceedings, but both by attorneys and Judges I was treated with rudeness, impatience, and little consideration given to value of the relationship between my son and I.

Why? I'd like to think they were all good people, even the folks in Family Court. I feel the difference may be caused by the failure to have clearly defined 'rights' for parents in Family Court. When given that much discretion, justice must become arbitrary. That is why before a Family Court has jurisdiction over your relationship with your children, you should first be found guilty in a Criminal Court, of a serious crime against them...
Jan 15, 2008 - John Murtari returned to the Syracuse Federal Building with a petition containing pictures of parents and children unjustly separated. John was quietly standing in front of the building for about 5 minutes when he was arrested by Federal Police for violating an earlier stay away order. John tried to explain to the officers that the stay away order, issued on Sept. 7th, was limited to the duration of "this proceeding." He told them that he had gone to trial and that the proceeding was completed. He was still arrested.
John was arraigned by Judge Peebles whom he had already written to regarding recusal and problems with his assigned counsel (see Jan 9th entry below). The Judge told him he was still trying to determine the maximum penalty for John's prior two violations of stay away order. John was being charged with criminal contempt which could be a Class A or Class B misdemeanor with a max penalty of either 6 months or one year. The Judge advised him if the penalty was over 6 months he would have a right to a jury trial and also have his case heard by a Federal District Judge.
The Judge seemed appreciative that John had written him regarding his pending activity, but he ordered John held until Thursday Jan. 17th when a decision on his release will be made.
A press release was also sent out and you are free to redistribute.
Tuesday, January 15th, is Martin Luther King's birthday. I can't think of a better day for a loving parent to risk peaceful arrest and be jailed for recognition of our GREAT Civil Right to be presumed FIT & EQUAL parents. http://www.AKidsRight.Org/approach.htm

Parents arrested with no bull-horn, no animosity, and no anger toward our brothers & sisters (which include the other parent, judges, lawyers, social workers, etc.), but always first to say I'm doing this because........ my most precious right to love my child is being violated! (The exclamation point being made not by frothing at the mouth, but by voluntarily surrendering personal freedom.) The great power of what Martin Luther King and Mahatma Gandhi called NonViolent Action. http://www.AKidsRight.Org/civil_back.htm (read rest of message...)
Jan 9, 2008 - A growing legal mess in Federal Court - Due to the pending activity, John thought it would be a good idea to write a letter to Federal Magistrate Peebles. He wanted to advise the Judge that his activity would resume and also that being forced to drive with a 'suspended license' may have put him in violation of some standard 'conditional release' terms the Judge had ordered. He also wanted to alert the Judge he would be asking for his recusal (It happened that John had 'fired' a Federal Public defender who had worked on his case years ago who happened to be the Judge's former spouse).
After review, John's assigned counsel refused to send the letter even after a direct request from John (and it now appears the attorney would not ask for recusal). John wrote the Judge a cover letter asking his attorney be relieved, and asking for clarification of client rights in this situation. His attorney told him:
"Unfortunately, you are mistaken about the role of the attorney in a criminal matter.
My role is to zealously represent you in the defense of the charges against you. The
attorney's decisions control all but a few aspects of the attorney/client relationship.
The client cannot dictate how the case will be defended. In fact, the client has only a
few areas of ultimate authority, i.e. plead guilty or not, and testify or not.

In my practice I make every effort to seek the client's input into the decisions I must
make in each case. Those issues are evaluated carefully and the client's desires are a
major factor but they do not control. ..."
Nov, 2007 - John was released from jail after his sentence but still has two serious charges for contempt pending trial (details below) in Federal Court - ouch!. In any case, the effort will resume on January 15th (Martin Luther King Day). John is looking for another Dad and Mom to join him. Please contact us to participate! Check here for more news.
October 18, 2007 - John was called back to Court for the Judge's decision (12 pages) and sentence. US Magistrate DiBianco found him not guilty on the two counts of damaging government property with chalk, but did find him guilty on two counts of disobeying a Federal Officer when he was told to stop his actions. The Judge gave him a 10 day sentence on each to be served concurrently. John was to report to the US Marshalls to begin his sentence the next day, until Oct. 29.
"I was really worried about what was going to happen going into Court that day. I already had tickets to travel to see my son for Nov. 1st. I explained that to the Judge during my pre-sentence statement and he was kind enough to take that into consideration and told me 'not to worry'. It was a relief to get just the 10 days, the maximum could have been 30 days for each served consecutively -- or 60 days in jail, a fine could also have been imposed. I was very thankful to avoid the worst case scenario!

Nothing more is planned for this year, but I am hoping for another Mom and Dad to join me in writing "I LOVE YOU" to their kids in early January!"
October 3, 2007 - John Murtari's trial was today for the two chalk writing incidents and also for contempt of a US Magistrate's Order. John could not afford to pay for counsel and none was assigned. Some member of the group submitted some good case law to John, especially a decision from the US 9th Circuit Court of Appeals, MacKinney v. Nielsen, 69 F.3d 1002. John was being charge under 41 CFR 102-74.380(b) with 'destroying or damaging' government property. In it's decision the 9th Circuit clearly states, "No reasonable person could think that writing with chalk would damage a sidewalk."

Before testimony began, John made a motion to the Court for dismissal and the Court reserved ruling till later. US Magistrate Judge Gustave DiBianco did not appear ready to proceed on the Contempt charge although both John and the Asst. US Attorney, Mr. Richard Southwick, were ready. Both asked that a pending contempt charge for an incident on Sep 27th be consolidated with this one. After further discussion the Judge and prosecutor decided to 'wait' for the contempt trial. Trial proceeded just on the chalk incidents.
The facts at trial were pretty much in line with the incidents as they have been described below. Under cross-examination the Building Manager did admit that no 'repairs' were necessary and the effort to removed the chalk was just 'cleaning'. At the end of the trial the Judge asked the prosecutor if he had anything to submit regarding the motion for dismissal. He did and was given till Friday (the 5th) to submit any memorandum of law. John would have a chance to reply.
The Judge then said he would call everyone back at a later date for a decision. No future trial date was set for the Contempt charges. No time frame was given and it was not clear at all to John when this might happen? No further events are planned by John for the remainder of this year. He hopes to travel and see his son next month and have his son home at Christmas time...
"Our" effort should resume in early January and John hopes another Mom & Dad will join him in the Federal Plaza.

September 27, 2007 - At 11 AM John returned to the Federal Building and was again arrested by federal officers. He was arraigned by US Magistrate Peebles late in the afternoon and released at about 5pm. His trial is scheduled for Wed, Oct 3rd, you are welcome to attend.

As part of pre-trial preparation John sent a letter to the Judge & US Attorney regarding planned actions and also asking the 'stay-away' order be vacated. A news release was sent before the event.
If you want to protest, yell, insult, or name call - PLEASE, choose another day or another location. If you wish to show the love you have for your kids and the pain caused by the injustice of the system -- join in a common effort with positive goals and methods: See the group's Goal & Approach to reform at http://www.AKidsRight.Org/approach.htm This is especially targeted to those who have had their relationship with their children 'gutted' by the system and have been living with a lot of pain & grief -- but who want to 'try' and make things better.....

I'm really hoping to get some other people to that Fed Plaza next Thursday to watch and offer moral support; and hopefully at least one Mom & Dad willing to use chalk and write "I LOVE YOU" to their kids and "SEN CLINTON HELP US" -- and accept the consequences. I think we could get some great additional media coverage in this area. I will also try to contact Clinton's local office again, we have a draft agenda for a meeting with her and I think it is pretty 'safe' -- check it out: http://www.AKidsRight.Org/clinton/agenda.htm

I don't want 'us' to be distracted by the legal arguments on free speech, etc -- We are not there to prove that. We are there to show our willingness to quietly stand up for what we believe in and to call public attention to Sen. Clinton and get her to meet publicly with parents (not asking for that much). We are not trying to 'demonize' her at all; just show her how much parents care about this issue AND get TV/print reporters to go to her local office and ask "Why won't you meet with these mothers and fathers? It sounds like they love their children very much and they feel their basic Right to be parents was violated." (read more)
September 20, 2007 - John receives a letter from the US Attorney's office, it is a letter and revised complaint regarding his activities. A very fair article runs in a regional newspaper, The Finger Lakes Times (see copy here). It explains John's activities regarding parent's rights and the attempt to get help from Sen. Clinton.
September 17, 2007 - John was released from jail by US Magistrate DiBianco -- he was very thankful. A news release was sent out on the 19th.
US Magistrate DiBianco is a compassionate man even though I directly violated his stay-away order. When I was brought to Federal Court on Monday (in a orange jump-suit and manacled with hand-cuffs and leg-irons) I did not expect to be released. The US Attorney made a strong argument that since I had refused to sign a "Conditional Release" (promising not to re-offend pending my trial), I should be held until trial - now scheduled for October 3rd.

I spoke to the Court about the Civil Rights nature of my efforts and tried to draw an analogy to a Mississippi Court Room in the 50s, and a Judge/Prosecutor facing a Black Man that had violated the law and sat "in the front of the bus." When there is grave injustice in a society, there is friction and conflict. I understood his order deserved 'respect', but that had to yield to the peaceful Civil Right goal.

Magistrate DiBianco looked at me and said, "Mr. Murtari, you hold the key to your freedom today. I will again give you a chance to sign the Conditional release form. The Court will adjourn for 5 minutes so you can read the form. When I return, if you do not sign, you will be returned to jail..."

It was depressing to think about. I didn't want to go back and could not sign such a promise. When the Judge returned I apologized, but again refused to promise that I would not re-offend.

Everyone in the Courtroom was surprised when he said, after a long pause, "Okay....I will let you go, but I will again confirm my order."

I do believe he appreciates my motivation and is attempting to pull his punches -- although he pretty much guaranteed that if I go back, he will hold me and give a SPEEDY trial on not only the chalk, but multiple contempt charges. The chalk is a max of 30 days, the contempt's carry a max of 6 months -- I will have two of each when I return next week. If it's not too expensive I will try to get the transcript.

We are 'blessed' with a powerful cause. We want to be reunited with the children we love, that mean the world to us. When we 'project' that in our words and actions, other people do take notice and respond. http://www.AKidsRight.Org/civil_back.htm
September 14, 2007 - A newspaper article appears in the local Syracuse Post Standard. Please note there is a factual error. The article says that John painted on the sidewalk at the Federal Building on Sept. 4. John didn't paint, but just wrote with sidewalk chalk.
September 13, 2007- John returned to the Syracuse Federal Building today at about 10 AM. Instead of chalk, John carried a picture of he and his son, along with pictures of other parents and children. A written message said "Senator Clinton Help Us". A picture of the small placard is above.

John planned to be quiet and not bother anyone, by just walking in the public Federal Plaza, but this simple action put him in violation of a broad stay-away order issued by US Magistrate DiBianco. John was arrested. The US Magistrate wasn't available, so John was arraigned by a State Supreme Court judge. He is currently being held at the Jamesville Correctional Facility and is scheduled to appear back in Federal Court on Monday. The US Attorney's office filed the following complaint for disobeying the Judge's order.
September 7, 2007- After being held for three days in jail. John was taken to Federal Court for another appearance in front of US Magistrate DiBianco. He again stated his reasons for refusing to sign a conditional release. The Judge then signed another Order directing John stay away from the Federal Building grounds without prior mission of the Court. He told John that if he violated that order he could be found in Contempt of Court and be given a six month jail sentence. A trial data of October 3rd or 4th was set for the pending two incidents and it was also determined that John did not quality for assigned counsel. John was happy to be released.
"Just a brief personal note on my conduct and motivation. I didn't think it was necessary, but at times it's easy to 'read' something into a message that does not exist."... (read entire message)
September 4, 2007 - At app 10 am today, John returned to the Syracuse Federal Building with chalk. He was taken into custody and was seen by a Judge. The US Attorney filed a two count complaint. The Judge asked him to sign a conditional release form stating he wouldn't come back to the building. John would not sign. He is currently being held at the Jamesville Correctional Facility near Syracuse. John hasn't been told how long he'll be there, but he had been told earlier that the maximum sentence is 15 days for each offense.
Read a message on "Educate, don't agitate!"
August 30, 2007 - At app 2pm today John Murtari returned to the Syracuse Federal Building to write a simple message on the Plaza. "I LOVE YOU DOM" & "Sen. Clinton Help Us!" He wrote on the ground with kid's sidewalk chalk. He wrote his message on the ground in four different locations before being stopped by building security officers. He was allowed to walk away, but was told not to come back. John gathered more chalk and returned to the building about 15 minutes later and wrote his message in another location. This time he was handcuffed and arrested by Federal Police officers. He was given a ticket for defacing Government property and was told to expect an appearance date in Federal Court. He does plan on returning to the building at a later date to continue a similar effort. He is looking for a mom & dad to join him in this effort.

August 28, 2007 - Group coordinator John Murtari again tries to follow up with Sen. Clinton's local staff by faxing a letter. There is no reply.
August/September 2007 - Continuing our effort of NonViolent Action, John Murtari will be leading an effort to help convince the Senator of the importance of our goals. The Senator's aid said we should 'write her more letters'. He will turn that into action by initially taking chalk and writing "I Love Dom" & "Sen. Clinton Help Us!" on the Federal Plaza. What is lacked in 'volume' of letters, may be made up by a willingness to risk arrest and voluntary sacrifice of freedom....
July 31, 2007 - We had a small a rally at the Syracuse Federal Building. A local mom, Katherine Neville brought a picture of her children and a letter to Sen. Clinton. John Murtari, group coordinator, also wrote a summary letter which Katherine personally delivered to Mr. Biba, the Senator's regional rep. A few days later, Katherine wrote a summary of her experiences.
"Please take the time to read the letters above. I think they make a good summary of our position and it's unfortunate that we have not been able to get a positive response. I followed up with a phone call to Mr. Biba and it was not returned..."
REMEMBER - Again, we are trying to keep a positive and courteous attitude at all times. These are good people that we are dealing with (certainly no worse than any of us are!). They may have trouble understanding our situations and goals. We will help them understand, NOT by insults, but by demonstrating OUR willingness to sacrifice for the sake of our children.
http://www.AKidsRight.Org/civil_back.htm